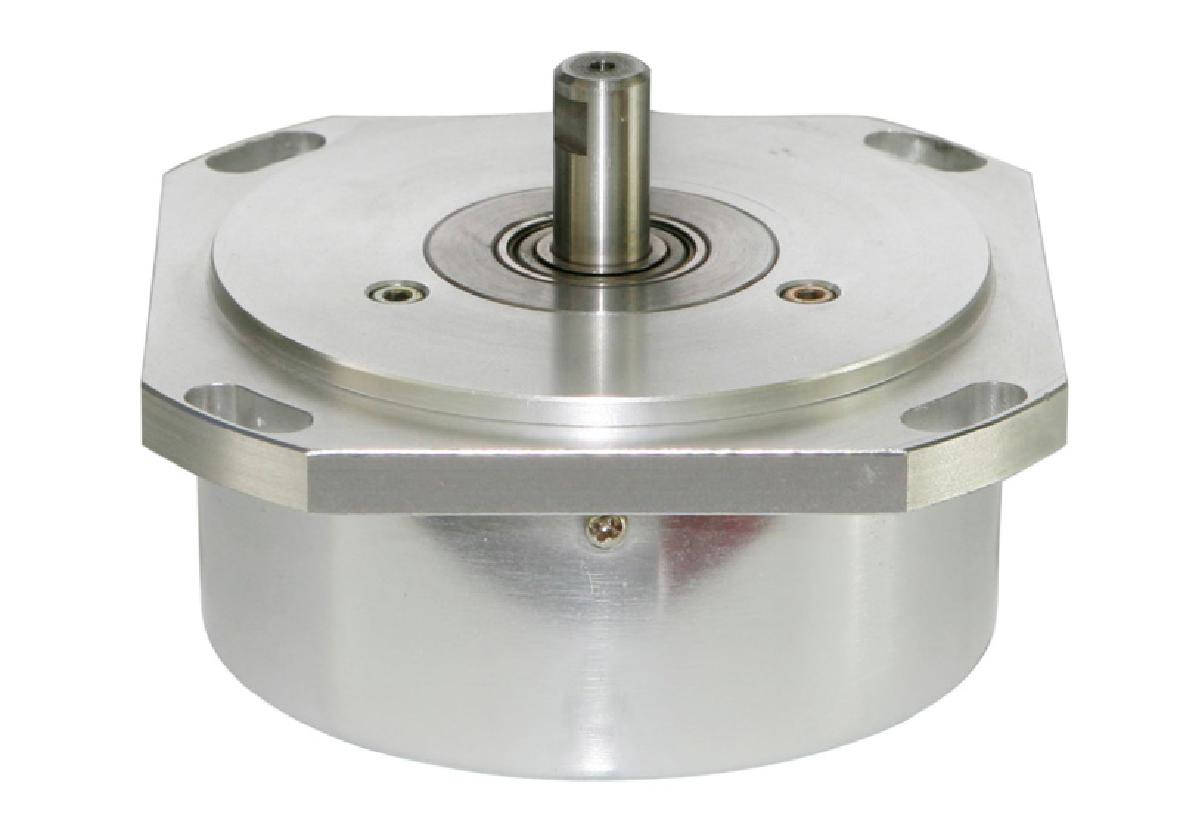 1. Safety Notice
This instruction manual is to provide guidance for technical personnel participating in installation and commissioning.
Carefully read this instruction manual prior to installing and operating this product.
Warranty will be lost due to unauthorized modification and unallowed utilization.
1.1 Application
RA-A angle encoder is specially developed by the Nordson Corporation for developing high-precision encoder market. It is mainly used for high-precision angle measurement, with the precision required to be within arc-seconds. At present, high-precision encoder is mainly used in the printing device, telescope, etc. of rotary table of machine tool, oblique joint of machine tool, gear measuring machine and printer.
1.2 Precautions
Conventional safety codes and regulations must be followed in using this angle encoder. In particular, measures must be taken to ensure that the damage of displacement sensor will not cause danger to personnel or equipment, including installation of safety limit switch emergency stop switch and maintenance of operating environment allowed.
1.3 Effectiveness
This instruction manual is only applicable to RA-A angle encoder.
Refer to relevant operating instruction manuals for other series of RA-A encoders.
Nordon Coporation also provides linear scale, encoder, etc. required for other different applications, including:
Manual-controlled machine tool
Heavy-duty machine tool
Hydraulic equipment
CE The displacement sensor complies with 2006/95/EC directive for low-voltage electric apparatus and 2004/108/EC directive for EMC.
Our company has passed the authorization and the audit of ISO9001 Quality System, ISO14001 Environmental System, OHSAS18001 Occupational Health and Safety Syste.
2 Advantages of Angle Encoder
As an angle measuring and inspecting device, the angle encoder is assembled with high-precision bearings and high-precision components, and can achieve a precision within arc-seconds after repeated commissioning and testing of the scanning unit.
Therefore, the angle encoders have become the high-precision positioning device for rotary table, gear measuring machine, printing device, telescope, etc.
3. Product Structure
RA-A angle encoder uses closed structure: the aluminum alloy housing prevents the internal scanning unit from the influence of dust, chip and cutting fluid. The internal scanning unit has a very small frictional force, and the frictional force is mainly from the bearing ball and the rail.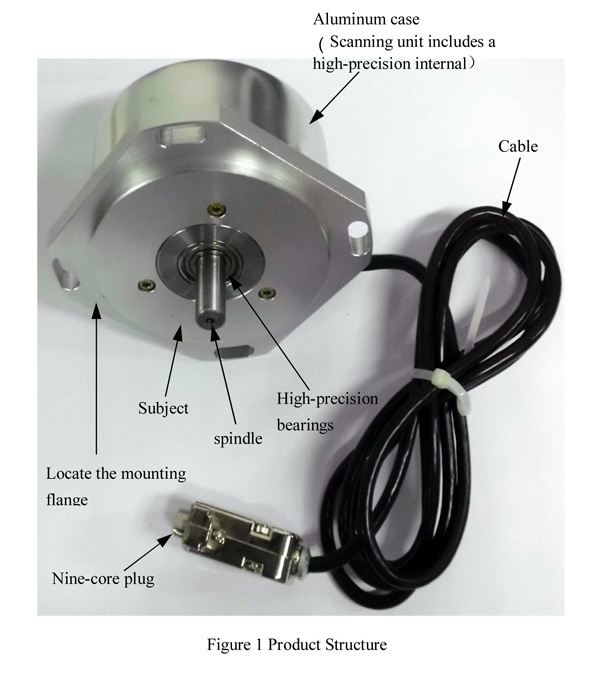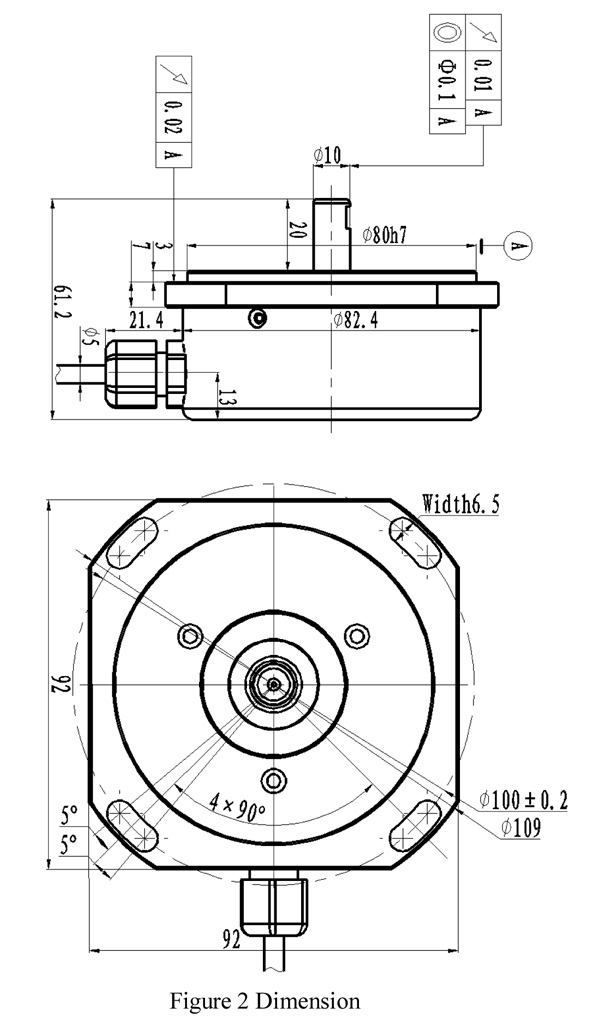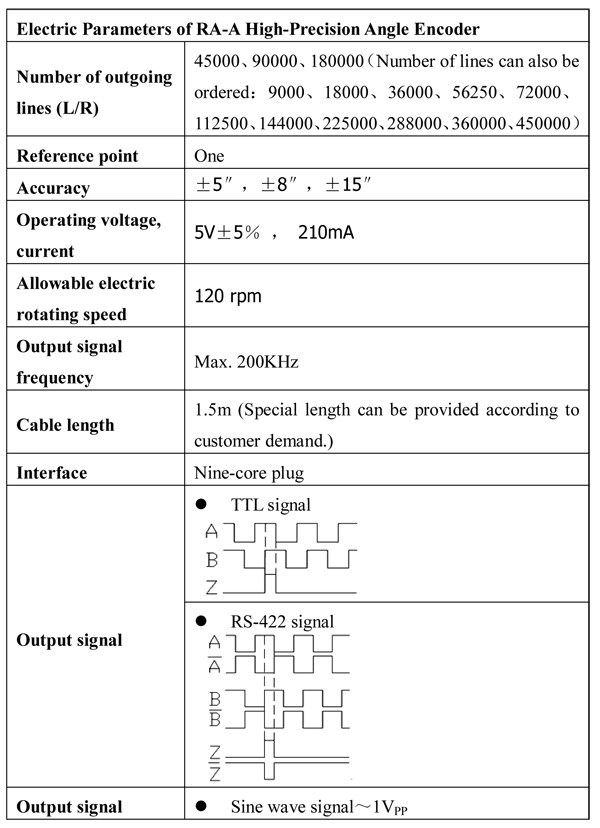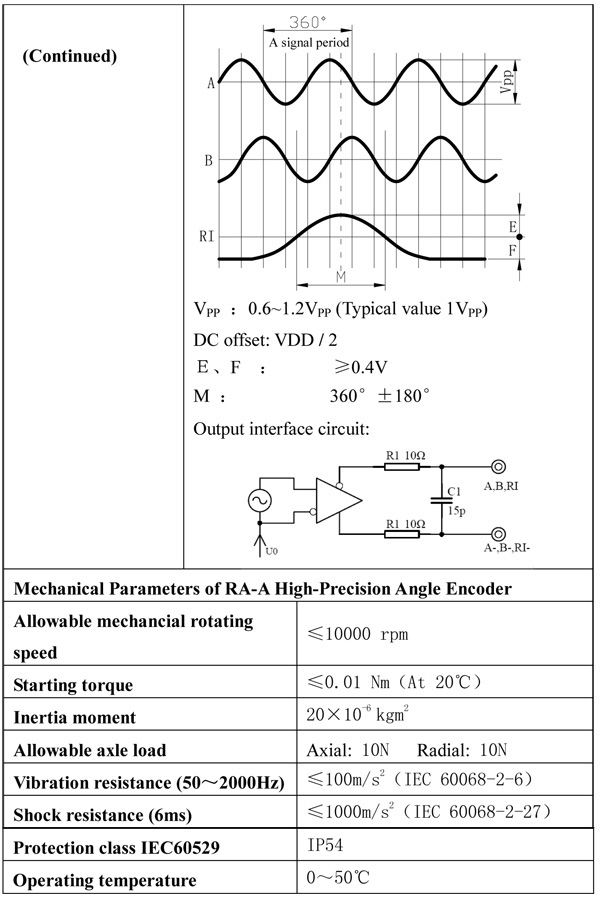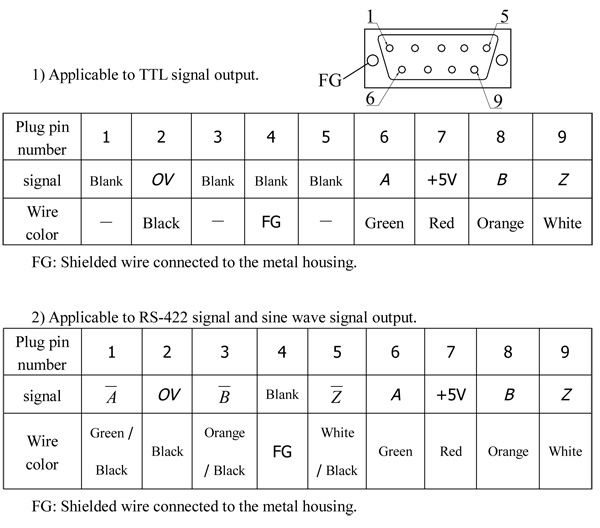 7. Installation
7.1 Protection
In order to prevent the encoder and nine-core connector from being directly sprinkled and scoured by fluids such as oil water, keep it away from the splashing fluid or add sufficient protection to the encoder and nine-core connector when installing the encoder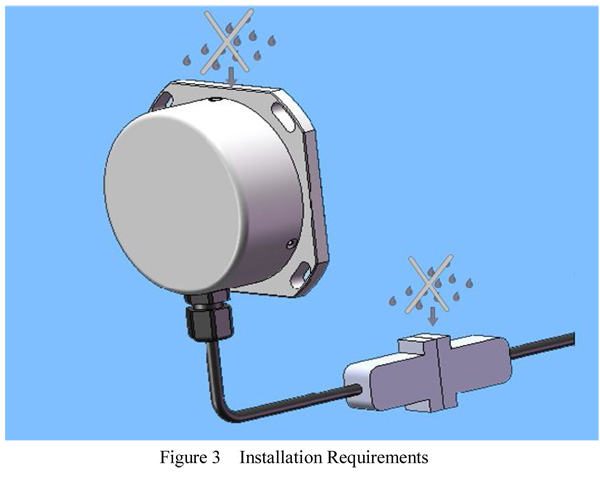 7.2 Principle of priority in installation
1. In order to ensure the measurement accuracy, make sure that the encoder spindle is concentric with the rotation center of the rotary table or instrument to the greatest extent.
2. The installation of encoder should not hinder the operation of the machine tool or instrument, and not reduce the original functions of the machine tool or instrument.
3. The encoder should not be liable to be impacted after installation. For instance, it is not liable to be impacted by the machine tool handle, braking device or other projecting section during processing and is not easy to be touched when accessing work piece.
7.3 Installation
1. Dimension requirements of installation substrate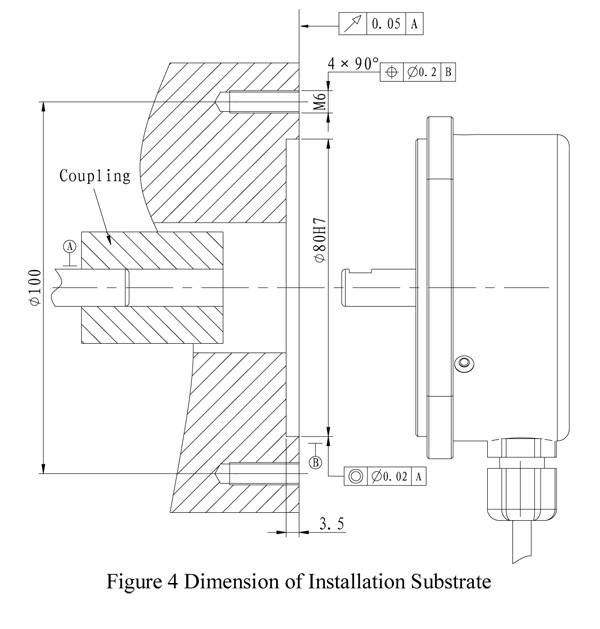 2. Schematic diagram for installation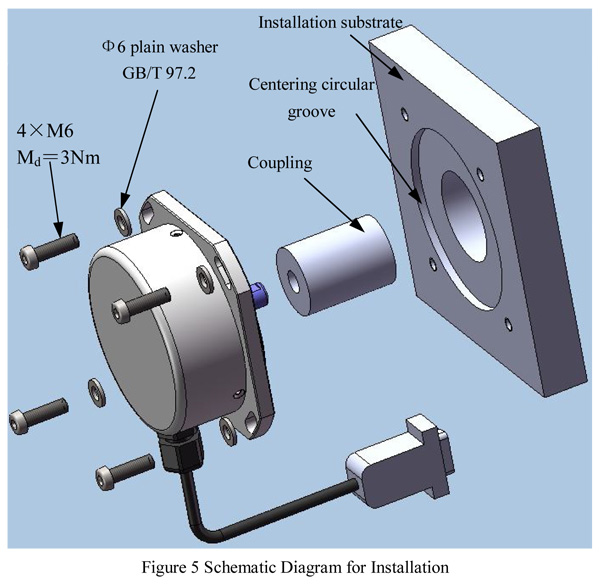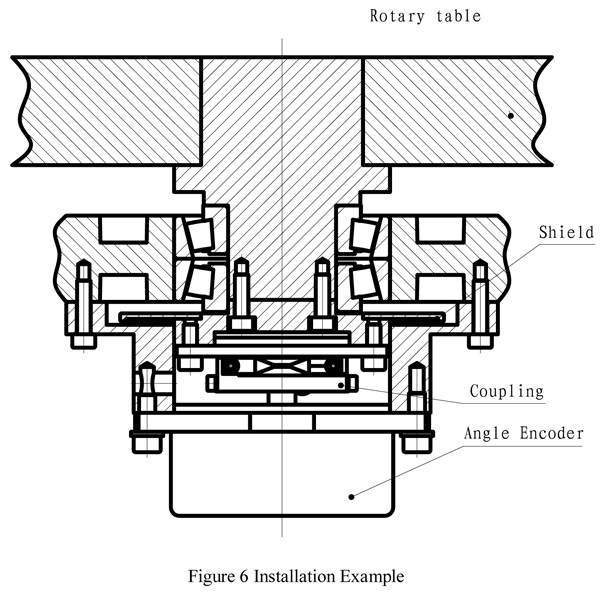 Optional fittings: coupling
JMJ diaphragm coupling:
JMJ coupling can be divided into three specifications as follows according to different diameters of connected shafts.